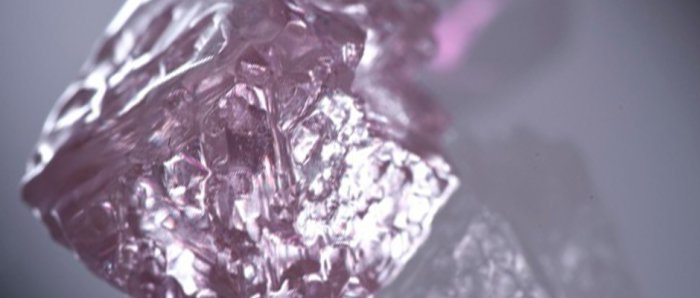 Opening of the new Argyle mine | EN
Argyle has produced 800 million carats since 1958.
To cope with the fact that the Argyle open sky mine resources are getting scarce, in the Kimberley region, Rio tinto is opening an underground extension which is expected to produce twenty million carats a year till 2020.
One of the main diamond producers Rio Tinto, an important international minig group whose head office is situated in the United Kingdom, groups several companies of which some are listed. The group's activities focus on prospection, operation and processing of mineral resources Rio Tinto produces mainly aluminium, copper, diamonds, thermal and metallurgic coal, uranium, gold, industrial minerals as well as iron ore. Its activities, of a world scope, are strongly represented in Australia and In Northern America even if they rely on important businesses in Asia, Europe, Africa and South America. In the diamond industry for more than thirty years, RIO Tinto has been managing a fully integrated operation of the stone, mines and marketing. Thanks to its Argyle mine, which it owns completely as well as to the mine in Diavik, Canada of which it owns 60 % the Murowa African site of which it owns 78 % of the shares, Rio Tinto remains one of the major producers of diamonds in the world. Its stones are sold through its head office in Antwerp, with the help of offices in New York, Mumbai an, Kong.
21/05/22

Sous la lampe à rayons ultraviolets (U.V.) une partie des diamants prennent une coloration particulière…

15/03/22

Une perle de culture est un véritable joyau de la mer créé par les efforts…

08/02/22

Het is zeer belangrijk via wetenschappelijke methodes een onderscheid te maken tussen natuurlijke en kunstmatige…

30/11/21

Wegens de zeer grote waarde van diamant is het normaal dat de verbeelding van de…

20/10/21

L'analyse XRF est une technique non destructive qui tire parti de l'interaction entre les rayons…

03/10/21

XRF analysis is a non-destructive technique that takes advantage of the interaction between primary X-rays…

18/09/21

XRF-analyse is een niet destructieve techniek die gebruik maakt van de interactie tussen primaire X…

29/08/21

Bien que le diamant soit la matière naturelle la plus dure, il a des points…

04/07/21

« Le rubis évoque la splendeur et la joie. Si la rose représente la parfaite…

02/06/21

De mens is altijd al gefascineerd geweest door dit onveranderlijke gele metaal, symbool van de…