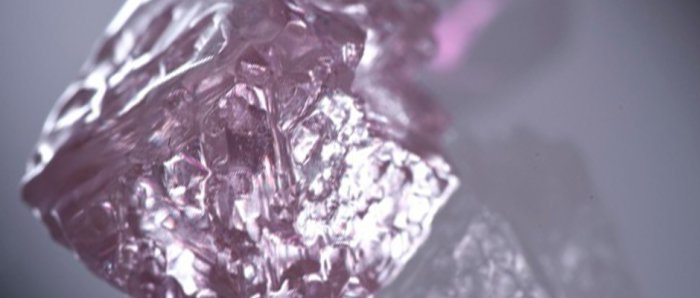 Opening of the new Argyle mine | EN
Argyle has produced 800 million carats since 1958.
To cope with the fact that the Argyle open sky mine resources are getting scarce, in the Kimberley region, Rio tinto is opening an underground extension which is expected to produce twenty million carats a year till 2020.
For several decades, Australia has become one of the most important producers of rough diamonds The Argyle mine, in the Kimberley region, in Western Australia, is the most important mine, with an annual global production of 34 million carats representing a value of more than dollars 320 millions. This mine produces, more specifically, near gem diamonds, small stones cut in India. The light to brown yellow coloured are a big part of the production, but the mine sometimes extracts absolutely beautiful pink stones ranging from intense to red. The stones extracted from this mine are very much sought after in fashion jewellery both in the emerging markets and in the well established markets. With its coloured stones, the mine has launched a campaign around the champagne and cognac diamonds. Since 1958 this mine has already produced 800 million carats.

Block caving At the end of April, Rio Tinto opened the new underground Argyle diamond mine as a solution to the open sky mine depletion. Such an extension which required a dollar 2.2 billion investment, is expected to enable the site to extend its production till 2020. That is said to happen through the use of the latest block caving technology, which is a first in Australia. That makes it possible to look to an annual production, over its whole life cycle, of around 20 million carats a year.

On 30 April 2013, Bill Marmion, the Australian Minister in charge of mines and oil, attended the inauguration ceremony of the mi ne. He was joined by the traditional owners, government representatives, Rio Tinto managers as well as employees of the Alan Davie group. Rio Tinto's general manager noted in his speech that the mine had already produced some of the nicest stones in the world prior to emphasizing the assets of the mine and its region. "The new Argyle underground mine has enables us to extend the life of this emblematic asset of Rio Tinto in Australia. I am proud that we can carryon with our contribution to local employment and the economic development of the Kimberley region, as we have done for a long time already", he said. It must be stated that with more than 70% of local employment, the mine has become a major economic contributor Kim Truter; Argyle Diamond's general manager added that "this mine is world class resource which has been strongly supported by Rio Tinto since it began operating in the 1970S This is the first page of a new chapter and I am happy to see this mine follow its path since it is a mine that has produced exceptional stones'"
31/08/23

Kan men synthetische diamanten onderscheiden van natuurlijke diamanten?. Synthetische diamanten, ook wel "lab-grown", "created" of…

09/08/23

Diamant synthétique : Quels sont les moyens de détecter les diamants naturels des synthétiques ?…

27/07/23

Les perspectives de De Beers sont affaiblie après que le Botswana a conclu un nouvel…

09/07/23

Het voor-polijsten, schuren, of -sanding - volgt de fase die erin bestond de steen een…

20/05/23

De eeuwenoude cabochonslijpsel is de oudste van de slijpvormen; het werd al beoefend in Mesopotamië…

01/03/23

Le diamant pierre exceptionnelle, reine des pierres précieuses, a été épargné des synthèses pendant un…

11/01/23

Goud wordt internationaal weergegeven in "Troy ounce", deze maat komt van uit de middeleeuwen, toen…

23/11/22

Une falsification du diamant est disponible dans les « boutiques » autour de la gare…

20/10/22

Het typisch van opaal is het "opaliseren", de Angelsaksen noemen dit "play of color". Men…

04/09/22

Wel bekend bij edelsteenliefhebbers, maar minder bij het groot publiek is peridoot een mooie en…