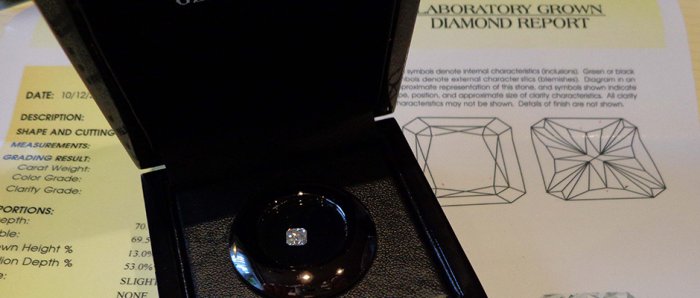 THE SITUATION OF THE DIAMOND MARKET | EN
The natural diamond market is experiencing a rather dull period. The perspectives look hard. At the same time the demand for cut or synthetic stones is going through a new leap in the United States as well as in Asia. Decryption.
For the HPHT, it is necessary to enjoy the Russian system (Bars) or the American one (Belt) where the diamond is created at a temperature exceeding 2 000 DC and a pressure exceeding 50 000 atmospheres. For the CVD, a microwave reactor is necessary as wen as a mixture of carbon rich gas. Both systems are slow, in spite of it all. According to the stone size selected, several weeks to several months are needed.

Type II natural diamonds (without any perceptible nitrogen impurity), mainly of a brownish colour, become white after HPHT processing. Luckily, the type II diamonds are rare. On the photo of the diamond processed by Bellataire, we can see a 0.40 carat brilliant size diamond, colour H (white), originating from a brown diamond. Some diamonds are coated with a CVD coat to give them a nicer colour, or a fantasy colour. The system, known as "coating" may be used for the other precious or imitation stones as well as for the hardening of lenses, glasses or any other item.

- DETECTION
If the consumer wishes to buy a synthetic or manipulated diamond because the price is more attractive, it is bigger or the purity is better, it is up to the said consumer. Yet, if the same consumer wishes to buy a natural non manipulated diamond, he/she must be able to do so from his/her jeweller without any doubt. Luckily there are internationally famous laboratories OGI, HRD, GIA, LFG, AGS) which can guaranty the origin of the gem. The certificate or appraisal report gives all the details, even if it is a synthetic or processed stone. The technology of the appraisal laboratories has developed at the same rhythm. They have scientific equipments unused and even unknown in the last century. The stones are at least analysed through UV spectroscopy, both visible and infrared, photoluminescence, spectrometry, X ray fluorescence, Raman spectroscopy, cathode-luminescence, X ray diffraction, etc. Devices specific for the gemmological laboratories have been built at the research centre of the HRD, on the WTDeD in Lierre, by the De Beers company, making available the D-Screen, the Diamond-View and Diamond-Shure laboratories.

Seeing that natural diamonds will have died out before the end of the century, collection natural diamonds will be left and sold as works of art and synthetic diamonds for jewellery. The diamond sector has really entered a new phase of its history.
21/05/22

Sous la lampe à rayons ultraviolets (U.V.) une partie des diamants prennent une coloration particulière…

15/03/22

Une perle de culture est un véritable joyau de la mer créé par les efforts…

08/02/22

Het is zeer belangrijk via wetenschappelijke methodes een onderscheid te maken tussen natuurlijke en kunstmatige…

30/11/21

Wegens de zeer grote waarde van diamant is het normaal dat de verbeelding van de…

20/10/21

L'analyse XRF est une technique non destructive qui tire parti de l'interaction entre les rayons…

03/10/21

XRF analysis is a non-destructive technique that takes advantage of the interaction between primary X-rays…

18/09/21

XRF-analyse is een niet destructieve techniek die gebruik maakt van de interactie tussen primaire X…

29/08/21

Bien que le diamant soit la matière naturelle la plus dure, il a des points…

04/07/21

« Le rubis évoque la splendeur et la joie. Si la rose représente la parfaite…

02/06/21

De mens is altijd al gefascineerd geweest door dit onveranderlijke gele metaal, symbool van de…