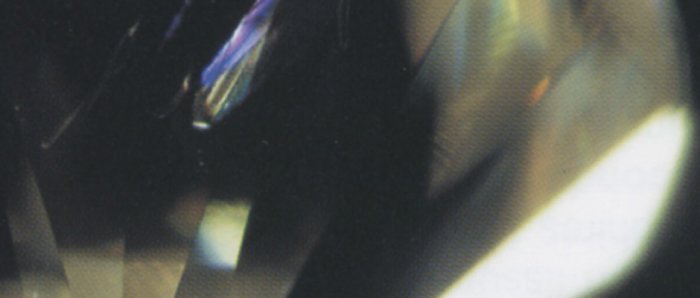 THE GLET FILLING | EN
THE FILLING OF THE CRACKS IN PRECIOUS STONES UNDER SCRUTINY
For several years now, the diamond and corundum sector has been faced with such manipulation. The process, which consists in filling the tears in the stones with synthetic products, is used for both cut stones and rough stones alike.
Following the technological development of the end of the 20th century - in other words, the laser beam and the synthetic products with very high refractive indexes -, it could not be excluded that precious stones would appear as a juicy business. The differences in the values of a pure stone and a stone with inclusions being so huge, it is therefore necessary to be extremely careful.

- THE MARKET STAKES
The differences in the value of a stone with a fault and a stone which has been processed to improvement are not really significant. Yet, such an improvement is a precious help for the sales, in most cases, of stones which otherwise would not sell at all. Whenever the manipulation is known, it is up to the customer to choose between a stone which looks nicer and is sold at an interesting price and a natural stone which is more expensive. Unfortunately the customer is not always informed about the manipulation. In this case it is indeed no more than a fraud, either from the supplier of from the retailer. But beware: the latter will always be the one who will be liable to the consumer.

This being established, there is another point that is of considerable impact over the increase of processed stones: the values of top of the range gems is rising constantly. A good quality Burmese ruby will reach prices between $25,000 and $50,000 per carat. A 7.66 carats ruby has been sold at Sotheby's in Geneva for $151,397 the carat, another 6.04 carats ruby at $551,137 the carat at Christie's in Hong Kong. Diamonds have also registered a strong increase in 2011, then a slight slowdown in 2012, just like gold. The forecasts are optimistic, however, for the long term, since the global production of good quality diamonds (rather down) will never be enough to meet the demand from the emerging countries.

Currently there are very many processed Burmese rubies on the market. Several jewellers have encountered such bad experience when buying rubies directly in Myanmar. They come, sometimes added to lots, sometimes sold separately. If the jeweller buys them in good faith, he will have serious problems when he sells them. As the product is fading after several months when it has been exposed to the sun, cleaned with scouring agents or with the ultra sound. The customer will see her ruby become dull, the colour is going to be altered and the tears show anew. A very interesting study has been published on this topic, by Pio Visconti in his work "Rubini Infiltrati, Caratteristiche gemmologiche e durabilita".
31/08/23

Kan men synthetische diamanten onderscheiden van natuurlijke diamanten?. Synthetische diamanten, ook wel "lab-grown", "created" of…

09/08/23

Diamant synthétique : Quels sont les moyens de détecter les diamants naturels des synthétiques ?…

27/07/23

Les perspectives de De Beers sont affaiblie après que le Botswana a conclu un nouvel…

09/07/23

Het voor-polijsten, schuren, of -sanding - volgt de fase die erin bestond de steen een…

20/05/23

De eeuwenoude cabochonslijpsel is de oudste van de slijpvormen; het werd al beoefend in Mesopotamië…

01/03/23

Le diamant pierre exceptionnelle, reine des pierres précieuses, a été épargné des synthèses pendant un…

11/01/23

Goud wordt internationaal weergegeven in "Troy ounce", deze maat komt van uit de middeleeuwen, toen…

23/11/22

Une falsification du diamant est disponible dans les « boutiques » autour de la gare…

20/10/22

Het typisch van opaal is het "opaliseren", de Angelsaksen noemen dit "play of color". Men…

04/09/22

Wel bekend bij edelsteenliefhebbers, maar minder bij het groot publiek is peridoot een mooie en…