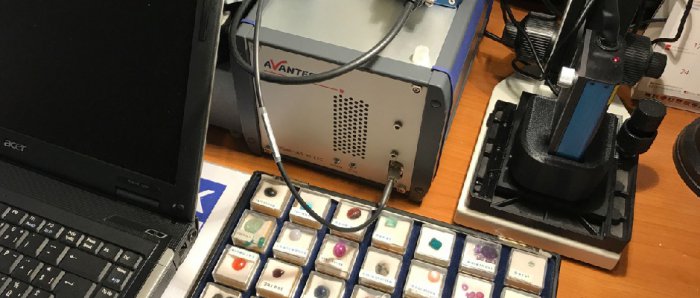 Spectroscopy Raman and Gemmology | EN
The Raman effect was discovered in 1928 by an Indian doctor of the same name who observed the change in wavelength occuring in a ray through a solid, liquid or gas. For this he was awarded the Nobel Prize for physics in 1930. This technique is based on the secondary effect obtained by light diffusion on transparent samples such as precious stones
Solid transparent material, illuminated by monochromatic light of a certain frequency emits ,apart from the exciting light, two frequencies of radiation, one greater and one lesser. The difference of frequencies between these two is independant of the source light, of the temperature and of the characteristic of the object under study. The spectrum of the Raman which is created depends on the nature of the atoms constituting the molecule (example; typical flaws in a precious stone) and their direction and the link between the atoms. This study gives us valuable information on the structure of molecules.

To obtain Raman spectrums it is necessary to use an electronic spectroscope that is a highly dispersive. Use of Laser augments the performance of the effect. Laser is a creation of light transmission and is a source of intense and coherent light. The first Lasers were of rubies. A set of silver coated rubies at both extremities, were replaced by the YAG Lasers (Yttrium Aluminate Garnet, also used for imitation diamonds in the 'golden sixties' before CZ)

The Raman effect is observed when the laser beam illuminates the flaw in the precious stone.

A minor part of the diffused light is diverted and reflected causing the atoms to vibrate. Analysing this light beam reveals the characteristics of the inclusion in the Raman spectrum. This light spectrum also gives information on the chemical composition and structure of the material.

Coupled to an optical microscope this procedure also allows identification of types of inclusions as fine as 1 micron (5 microns is the diameter of a human hair)

In molecular laser micowaves the bundle of photons is generated by laser beams and used to excite the inclusion in the precious stone. The light defused by the Raman effect identifies the polyatomic presence in the inclusion and this by the typical molecular vibration spectrum.
10/11/23

Edelstenen zijn al eeuwenlang een fascinerend onderwerp voor mensen over de hele wereld. Ze worden…

31/08/23

Kan men synthetische diamanten onderscheiden van natuurlijke diamanten?. Synthetische diamanten, ook wel "lab-grown", "created" of…

09/08/23

Diamant synthétique : Quels sont les moyens de détecter les diamants naturels des synthétiques ?…

27/07/23

Les perspectives de De Beers sont affaiblie après que le Botswana a conclu un nouvel…

09/07/23

Het voor-polijsten, schuren, of -sanding - volgt de fase die erin bestond de steen een…

20/05/23

De eeuwenoude cabochonslijpsel is de oudste van de slijpvormen; het werd al beoefend in Mesopotamië…

01/03/23

Le diamant pierre exceptionnelle, reine des pierres précieuses, a été épargné des synthèses pendant un…

11/01/23

Goud wordt internationaal weergegeven in "Troy ounce", deze maat komt van uit de middeleeuwen, toen…

23/11/22

Une falsification du diamant est disponible dans les « boutiques » autour de la gare…

20/10/22

Het typisch van opaal is het "opaliseren", de Angelsaksen noemen dit "play of color". Men…