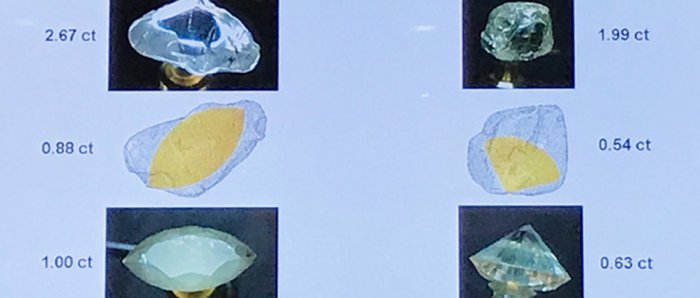 ANTWERP MADE A REVOLUTION IN DIAMOND POLISHING | EN
The Antwerp World Diamond Center (the organization that centralizes Antwerp's diamond sector), through its department WTOCD (the Scientific and Technology Research Center for Diamond), has developed a revolutionary technology that fully automates the diamond cutting process. This technology is called "Fenix", formerly known as "Woscam".
The name of Fenix (Phoenix) expresses the hope to see reborn from its ashes a cutting centre, after a few decades of catastrophic decline. In Antwerp we had more than 30,000 diamond cutters till the "Golden Sixties", leaving us with only a few hundreds today.

In 1456, Lode van Berquem, a famous Antwerp diamond cutter, discovered amongst others, that diamond can only be cut with diamond. His technique involves a dop (wooden hand tool) to which a copper shell was fixed that contains a mixture of lead and tin and in which the diamond was placed. The dop is placed on a cast iron disc coated with diamond powder. This methodology was used since then until today.

The old methodology is very burdensome since all diamonds, no matter the size of the stones, are mainly cut by hand. Such long and laborious process took place in Antwerp for more than 500 years. Due to this labour-intensive job and the high salary costs, the diamond cutting industry gradually moved to India and to other low wages countries.

Today, Fenix fundamentally changes the old diamond cutting technique and is the result of more than 10 years of research. With Fenix the WTOCD managed to develop a technology that involves a machine to fully automate the cutting process. With this machine a diamond can be cut 10 to 20 times faster. A stone that would normally take a day's work can now be cut in one and a half hours thanks to this new technology.

Not only is Fenix faster, it is also extremely precise and revolutionary in the way the diamond is cut. Currently polished diamonds must meet extremely stringent standards. The requirements of recent years for the proportions, finishing and symmetry of certified diamonds are much more stringent than in the past century. The standards were "Very good", "Good" "Unusual or Poor". Today a new classification is added: "Excellent". By improving the outcome of the process, Fenix also helps to add value to the finished product.

Moreover, since each diamond has a certain crystalline direction that should be taken into account in the cutting process, it requires 5 years of training in the Antwerp cutting school to master the art. Fenix is also revolutionary since it is the first technology that allows to cut without researching the crystalline structure of the diamond.

Fenix's is very promising for the Antwerp diamond sector and was presented during the "Kimberley Process" meeting held in June last year in Antwerp, where the 81 Member States, producers, industry and NGOs met to discuss the future of a sustainable diamond industry, an industry that employs around 10.000.000 people, from the mine to the jeweller.

The Antwerp-based diamond manufacturers are now putting their hopes on this technological revolution which could bring a significant part of the cutting back to Antwerp. Since September last year the first machines that are based on this new technology have been tested in different Antwerp diamond factories. Although Fenix is faster and automated, it will always require technicians for tuning and control.
31/08/23

Kan men synthetische diamanten onderscheiden van natuurlijke diamanten?. Synthetische diamanten, ook wel "lab-grown", "created" of…

09/08/23

Diamant synthétique : Quels sont les moyens de détecter les diamants naturels des synthétiques ?…

27/07/23

Les perspectives de De Beers sont affaiblie après que le Botswana a conclu un nouvel…

09/07/23

Het voor-polijsten, schuren, of -sanding - volgt de fase die erin bestond de steen een…

20/05/23

De eeuwenoude cabochonslijpsel is de oudste van de slijpvormen; het werd al beoefend in Mesopotamië…

01/03/23

Le diamant pierre exceptionnelle, reine des pierres précieuses, a été épargné des synthèses pendant un…

11/01/23

Goud wordt internationaal weergegeven in "Troy ounce", deze maat komt van uit de middeleeuwen, toen…

23/11/22

Une falsification du diamant est disponible dans les « boutiques » autour de la gare…

20/10/22

Het typisch van opaal is het "opaliseren", de Angelsaksen noemen dit "play of color". Men…

04/09/22

Wel bekend bij edelsteenliefhebbers, maar minder bij het groot publiek is peridoot een mooie en…